Vocabulary
Kintsugi: Gluing broken pieces of a vessel with lacquer and finishing it with sprinkling gold powder
Urushi: Lacquer
Maki-e: Painting on items with lacquer and putting gold or silver powder on it
Hira-Maki-e: The basic technique of Maki-e.
Shishai Maki-e: One of the most complex techniques of Maki-e. Painting pictures on padding lacquer on the base lacquer layer. Then putting over layer on then polishing the whole item. The painting is not flat and has a three-dimensional effect.
Kai-togidashi Maki-e: Maki-e with polishing the entire item. The surface of the item is flat.
Chinkin: inlaying gold on etched grooves.
"Urushi no Komaya is working with "Komamoto Maki-e Studio" to create a system that responds to Kintsugi and restores various items and lacquer flexibly.
Meet the Craftspeople
Yoshiyuki Yabushita: Representative of Urushi no Komaya/Kintsugi expert
Mr. Yabushita trained under Mr. Takenobu Komamoto, a certified traditional craftsperson, to learn the art of Echizen lacquerware. In 2022, he established "Urushi no Komaya," a shop that specializes in Kintsugi.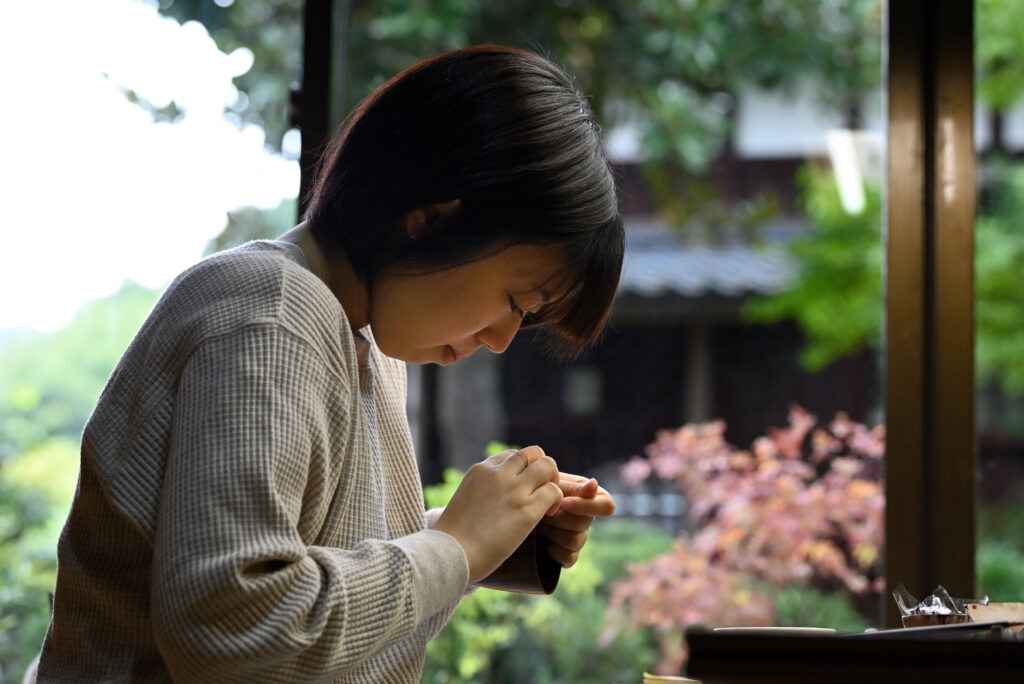 Takenobu Komamoto: Representative of "Komamoto Maki-e Kobo"/certified traditional craftsperson of Maki-e
Mr. Komamoto is the master of Yoshiyuki Yabushita, a representative of "Urushi no Komaya". He mastered and created the technique of "Shishiai Maki-e" and served as the first chairman of the "Nokishita Kobo" workshop. He hopes to improve the Echizen lacquerware technique and educate more craftspeople in this art.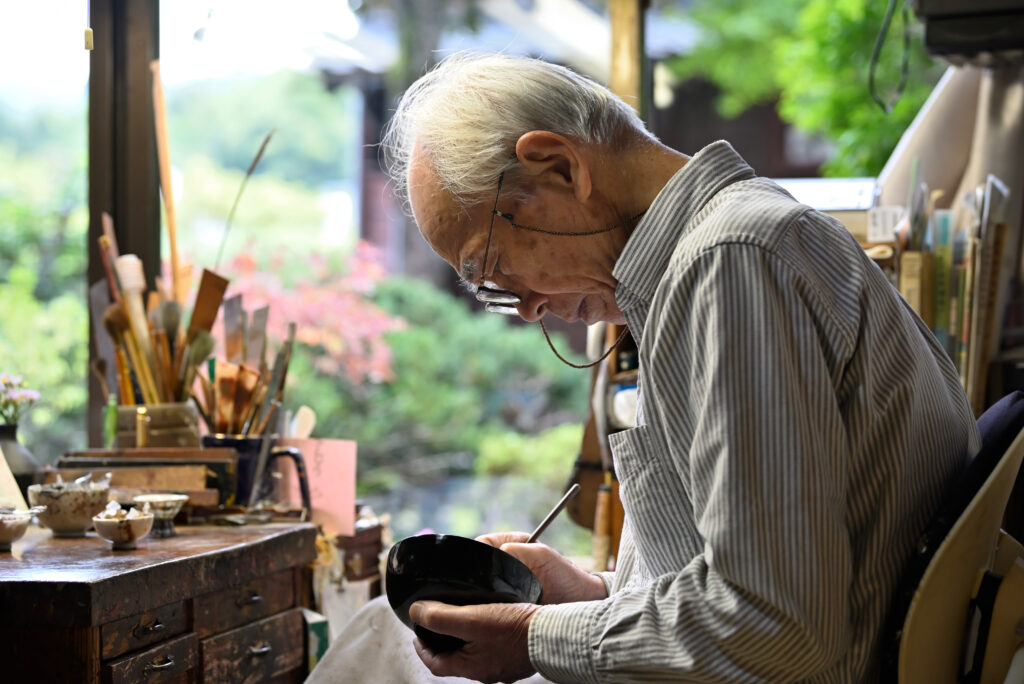 Koharu Yabushita: "Komamoto Maki-e Kobo" craftsperson/Maki-e expert
Ms. Yabushita was born in Sabae City, Fukui Prefecture. She studied Maki-e under Mr. Komamoto in her fourth year at university. She is currently taking a long-term traditional craftsperson training program organized by the Fukui Prefecture. In 2022, she received the Echizen Lacquerware Exhibition Prefectural Council Chairman's Award.
Koharu: While working on my thesis study for my bachelor's degree, I heard an interview the Kawada District of Sabae City. It's counted as one of the four major lacquerware production areas and the oldest production area in Japan, while the Katayama area (where "Komamoto Maki-e Kobo) is located, is the center of the production area.
Komamoto: The Katayama area had very little farmable land, so farming would not be a viable option. Therefore, they probably ended up working with lacquerware, which had been a small business for a long time. As the Lacquerware industry flourished, lacquerware craftspeople began to migrate from various regions to the Katayama area. They developed a unique culture different from other villages in the Kawada district. The Katayama area has many unique family names because there were many who immigrated there. My ancient Komamoto family originally moved from the Yamanaka area of Ishikawa Prefecture. It can be said that this lacquerware production area was created by a group of people who gathered from all over, and people were selling lacquerware everywhere.
Koharu: Diversity created the Echizen lacquerware production area. Is it the same for Maki-e work?
Komamoto: The roots of Maki-e in the Echizen lacquerware production area probably began with the introduction of Maki-e techniques from Kyoto during the Meiji period, but after that, various styles are believed to have spread from Wajima and elsewhere. My master and father-in-law, Rikizo Komamoto, learned under a Maki-e master from the Kumamoto prefecture. The Katayama area was where a variety of Maki-e craftspeople with different techniques gathered for Maki-e as well.
Koharu: Thanks to that, were you able to acquire various Maki-e techniques?
Komamoto: No, it wasn't easy to learn high-level techniques in this production area. From 1965 to 1985, when this area was extremely prosperous, most of the products were simple Hira-Maki-e. The Echizen lacquerware production area was the first to respond to the mass production of lacquerware. Along with economic growth, the Katayama area grew as a lacquerware production area that conducted sales activities nationwide.
Unlike the high-end lacquerware production areas represented by Wajima and Kyoto, the Katayama area produced popular products, not expensive ones, that met the countrywide needs. Therefore, there was a large demand for Hira-Maki-e.
Hira-Maki-e can be painted quickly and inexpensively on commercial lacquerware. People reached the polished Hira-Maki-e as a result of pursuing a luxurious appearance while taking cost and productivity into consideration.
Due to these circumstances, the Echizen lacquerware production area had few opportunities to make use of high-level Maki-e techniques. However, the technique of polished Hira-Maki-e is superior to the other production areas, and I think it is still a feature of this production area.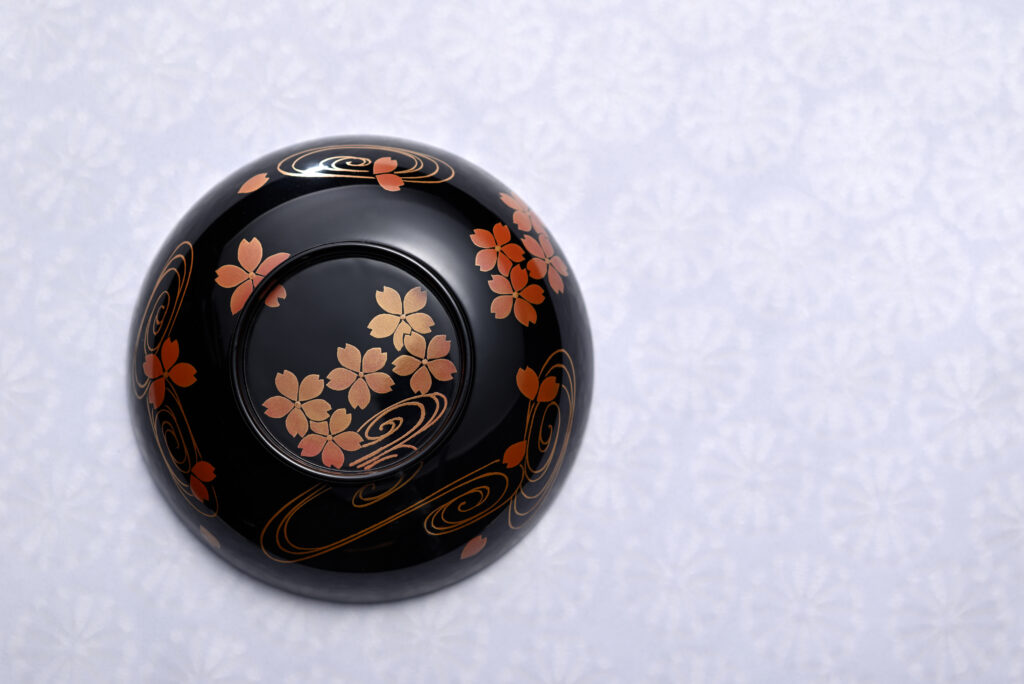 Yabushita: By the way, polished Maki-e is connected to the technique of Kintsugi. However, how did you master such a difficult technique as Shishiai Maki-e and Kai-togidashi Maki-e in such an environment?
Komamoto: Mr. Seigetsu Kato taught me Shishiai Maki-e. He was originally from Kawada but was trained under a Maki-e craftsperson in Kyoto and used techniques that craftspeople in Kawada did not have. Mr. Kato approached me just when I was starting to feel the difference between the Maki-e I saw in books and the Maki-e I drew, so that was perfect timing.
I went to Mr. Kato after my work hours for about three years, and after that, I was able to learn many of the techniques that I use today by working hard together with fellow craftspeople of Maki-e and Chinkin at the Shitsurin-kai group, which I established with the fellows.
Yabushita: Is it the same for Kintsugi techniques?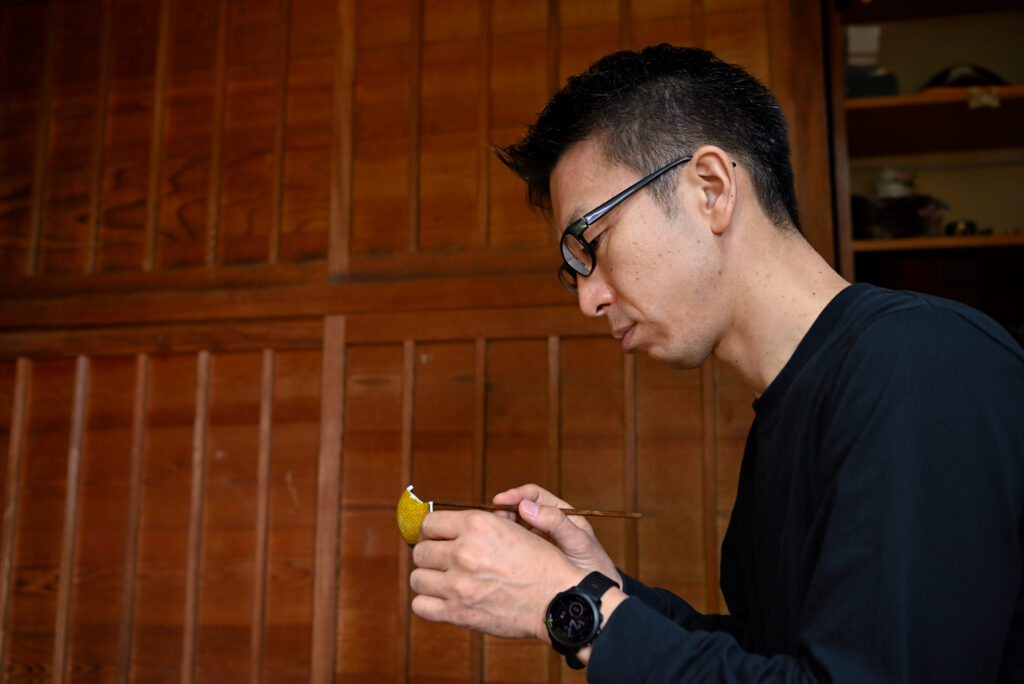 Komamoto: The first time I was introduced to the Kintsugi technique was when I was teaching "Lacquer craft practice" in the Department of Japanese History at Tsuruga Junior College from 2005-2006. It all started when a senior craftsperson asked me to help him with a "Kintsugi lecture ."After that, I learned the Kintsugi method in detail, and in the last five years or so, the need for Kintsugi has grown in popularity.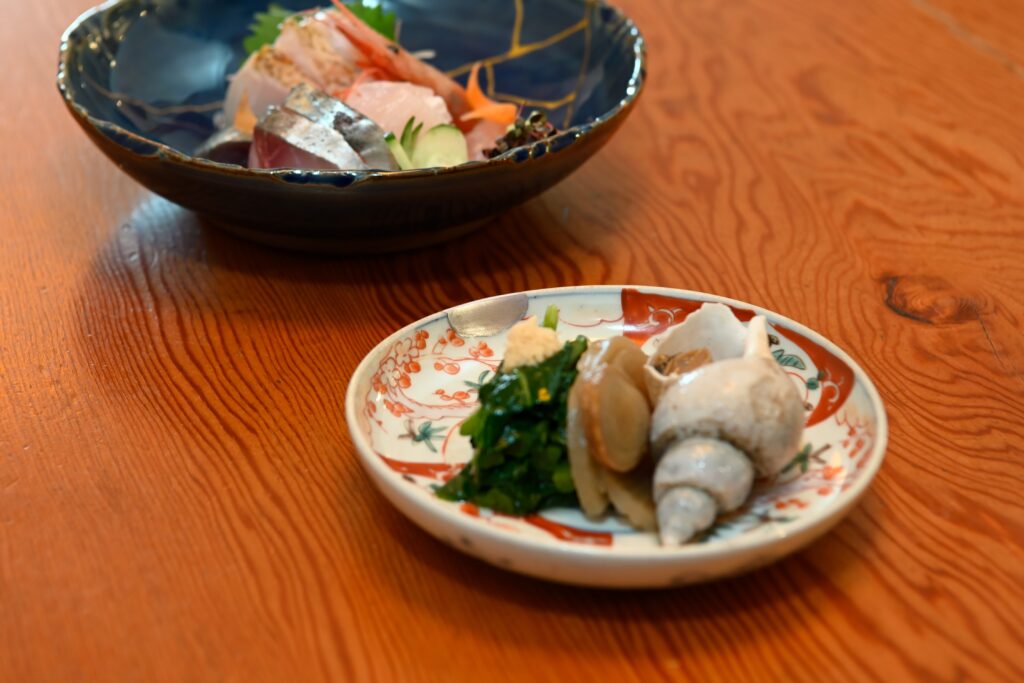 Yabushita: I feel that Kintsugi is gaining popularity because of the media. I practiced Kintsugi using an acquaintance's pottery during my training period. Many of my acquaintances knew about Kintsugi and then realized that old broken antiques and cups that held memories in their homes were repairable.
From that fact, I felt that the sense of cherishing things has grown among the people. It may also be suitable for the social background that SDGs are emphasized. The concept of Kintsugi is spreading outside of Japan as well. At the 2020 International Day of Peace commemoration, UN Secretary-General Antonio Guterres mentioned the Japanese Kintsugi culture.
"Kintsugi, which takes broken pieces of pottery and fuses them together using golden lacquer. The result is a piece that is not 'good as new' but 'better than new.'
As we mark the International Day of Peace, let's apply this principle to our fractured world." (https://news.un.org/en/story/2020/09/1072622)
At the closing ceremony of the 2020 Paralympic Games, the President of the International Paralympic Committee, Andrew Parsons, also emphasized the philosophy of Kintsugi.
"(Philosophy of Kintsugi means) embrace the imperfections we all have, not hide them away, but celebrate them." (https://youtu.be/91l_bjHRiiE?t=6611)
We are trying to realize a sustainable society by reducing environmental impact and valuing diversity in this world. I think that "kintsugi", the Japanese culture, symbolizes the SDGs.
By the way, Mr. Komamoto, you put a lot of effort into educating craftspeople and passing along skills to the next generation. For example, the "Kawada Art Camp" and the "Traditional Craftsperson School" which my daughter joined. What makes you motivated to put effort into education?
Komamoto: I see the decline of local industry with my own eyes, so I would like to promote this production area even a little and convey the qualities of lacquer to the people. All I can do is accept visitors to the factory and give them an opportunity to experience the lacquer work from the standpoint of a craftsperson. I hope that the activity expands the range of people who know how lacquer works and increases the popularity of lacquerware. I think we should focus on adopting this idea with clustered production function to the next generation instead of trying to be the one who succeeds the most in the production area.